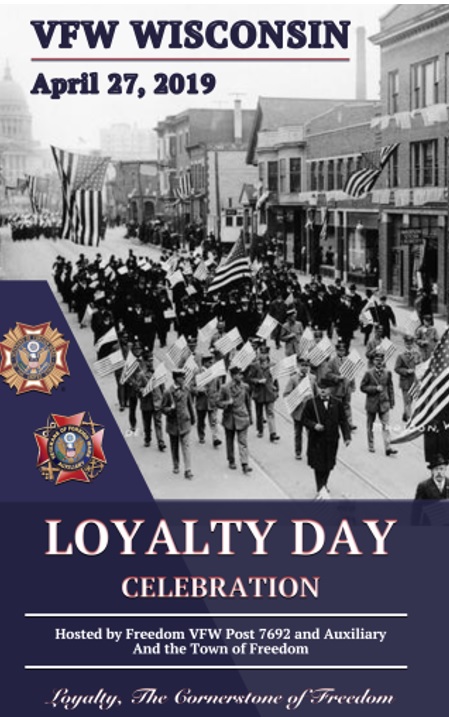 Freedom VFW Post 7692 has been selected by the Department of Wisconsin Veterans of Foreign Wars to host the 2019 Loyalty Day Celebration on Saturday, April 27, 2019.
Created at the demand of thousands of members of the Veterans of Foreign Wars, who led the campaign for many years to secure federal recognition of the patriotic holiday, Loyalty Day has grown in scope each year. Each year it is recognized by more and more Americans for its serious intent - a special day for the reaffirmation of loyalty to their country and thanksgiving for the heritage of American freedom.
Loyalty Day was first celebrated in 1921 and was observed as a recurring national holiday by Congress in 1958. It is a day set aside for individuals to reaffirm allegiance to the United States and recognize the heritage of American freedom. Each year, the Wisconsin VFW bestows the honor to one city to host the celebration of Loyalty Day. The Town of Freedom and Freedom VFW Post 7692 are honored to be hosting the parade this year.
Freedom VFW Post 7692 is aiming to put on the most significant Loyalty Day Parade Wisconsin has ever seen, and we need your help to make it happen. Parade registration is now closed.
The parade will step-off at 10:30 am on April 27, 2019, starting at Freedom High School, followed by a celebration at VFW Memorial Park in Freedom. Everyone is invited to join in the festivities. There are still opportunities for sponsorships. For more information on the parade contact the Chairman of Loyalty Day: Rob Bonack at cmd@vfw7692.org.